Living From a Place of Surrender is an online course by Michael A Singer that teaches you a unique approach to release your inner blockages so that you can live an inspired life, experiencing real growth and deep satisfaction.
I want to ask you a quick question – At present, what do you think is your single biggest obstacle in life?
The answer – It is not that person you think or the situation you are facing instead it is your "Mind" that resides in the three-pound organ of your body called the brain. Michael says…your mind can be a dangerous place or a great gift.
The real problem is the constant chatter that happens in your mind all the time. You may have tried meditation to quiet your mind but it's only for a short while…as soon as you are done with your meditation session, the very next minute the chit-chat starts again.
So what do you do?
Should you learn how to stop the mind from over-thinking – Nope
Should you learn advanced mind control techniques – Nope
Should you meditate more – Nope
Here's what you should do:
Find out "WHY" your mind is chit-chatting all the time.
Find out "WHAT" your mind is chit-chatting all the time.
Once you have answers to the above questions then you apply the unique technique taught in the course to 'release it' so that you can free up space in your mind for new inspiration, creativity, joy, and more happiness.
I shall talk about this unique approach and course in detail but before that let me introduce you to the creator of this program.
Meet The Teacher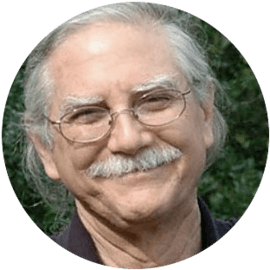 Michael A Singer is a spiritual teacher, amazing author, brilliant speaker, and the creator of this online course. He has written two books The Untethered Soul & The Surrender Experiment and both were the #1 New York Times bestsellers.
Speaking about his life journey, as a young teenager, he was an astute student who went on to pursue a doctorate in Economics from the University of Florida. During his mid-twenties he experienced a deep inner awakening that took him to forests and went into seclusion, focusing on yoga and meditation.
As life moved on he created a leading-edge software that transformed the medical practice management industry and later on became a CEO of a billion-dollar public company.
There came a time in his life when had to resign from his company because his staff was involved in some fraudulent activities within the company. Due to this event, he had to face a 6-year long legal battle and had to face a lot of disgrace.
In the year 1975, he founded "Temple of the Universe" a place where people came together to practice yoga and meditation. For more than four decades now he has been a spiritual teacher and has contributed in the areas of education, health care, and environmental protection.
If you want to have a glimpse of him then listen to one of his famous talks he gave in the year 2015 at the University of Florida on "Mindfulness as a way of life". He has a completely different take on Mindfulness…listen to his talk, there is profound wisdom (you don't want to miss it).
What Will You Learn In This Course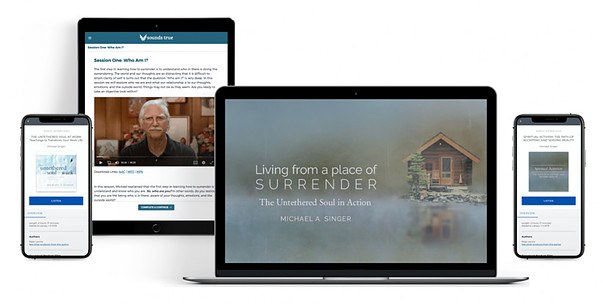 In this course, Michael brings to you eight inspirational, engaging video sessions filled with practical teachings on living life from a place of deep surrender. Let's look into each of these sessions to understand what you will learn in them.
Session 1: Who am I
The first session sets the foundation for this course. Michael says unless you do not know who you truly are, you will never learn how to live from the place of surrender. He talks in great detail about the distinction between you, the mind, and emotions.
He explains the "seat of awareness" and how you can go to that place of awareness and experience the deeper "you" and the consciousness behind your experience.
The key highlights of this session:
Understanding your "True Self" and discovering your lost connection with consciousness.
The basic nature of the world, the mind, the heart, and you.
The three arenas of conscious experience.
Session 2: The Outside World
Michael says the outside world (the universe) has got nothing to do with you. It unfolds every moment in front of you. He says the majority of us try to control the moment that's unfolding in front of us and thereby block the flow of energy.
By cultivating an impersonal mind, you can engage with the present moment and fully experience it. This enables you to align with the flow of the universe and unblocks the resistance in you.
The key highlights of this session:
Discover "Witness Consciousness"
How to engage with the flow of the universe.
How the outside world impacts your inner energies.
Session 3: "WHY" your mind is chit-chatting
In this session, you find out with Michael the "alternate universe" that you create in our mind and how it interacts with reality and creates suffering the entire life. The primary reason why your mind goes on chit-chatting is that there is solid obstruction caused by your mind as it interacts with reality on a daily basis.
The key highlights of this session:
How you force your mind (willfully) to create energy blockages.
How to unblock the energy flow and end suffering.
How does your mind create the "Alternate Universe"
How to experience reality & let moments pass through you.
Session 4: "WHAT" your mind is chit-chatting
In this session, you will go deeper to find the source of your voice inside your head. Michael shares a technique to distance yourself from the mental dialogue. He introduces the surrender concept so that you focus on the unfolding moment and let go of the voice inside your head.
The key highlights of this session:
How to release personal preferences & learn to fully participate at the moment unfolding around you.
Start working with your mind & apply the surrender principle
Why you should honor and respect your reality
Session 5: Open Your Heart
In this session, you discover the natural state of your heart and how energy closes your heart. Michael says the majority of us either cling to good experiences or memories and resist the unpleasant experiences or memories and this restricts the free flow of energy to our heart. He says dance with your life, say yes to life experiences with an open heart as it plays its tune.
The key highlights of this session:
How to change our egocentric perspective (believe me we all have an ego and need to work on it)
Relationship between your thoughts & emotions and how it affects your heart.
How to establish a free flow of energy without clinging or resistance.
Session 6: Taking The Spiritual Path
Taking the spiritual path is having an open attitude towards life, people, relationships, and life experiences. Michael says your entire life changes as you become free from judgments, narrow-mindedness, and let go of your self. You will learn the practical path to a life of surrender that is accessible to you and everyone around you.
The key highlights of this session:
How you can experience the "ever-new joy"
Free the patterns that are formed by your past impressions.
How to let go of your personal self and access the path of surrender to experience inner freedom & bliss.
Session 7: Practice & Master Letting Go
As you take the spiritual path, you will realize life is not about getting anything instead it is about letting go. Michael says you don't let go of your dreams or goals instead you let go of whatever is locking you up inside and affecting your fullest expression.
The key highlights of this session:
Learn the practice: Relax & Release.
As you learn the practice, start applying it to the "low hanging fruit".
Make a lifelong commitment to "just keep letting it go"
Session 8: Living a Life of Surrender
In the final session, Michael explains a noticeable turnaround in our lives as we practice the path of surrender (letting go). He says it is a potent solution to clean up the mess/garbage that's stored in us so that we live in harmony with the flow of life. He states, you either continue to struggle in life or devote your life to change at the deepest level, the choice is yours.
The key highlights of this session:
The purpose of life: Let go of your stuff inside.
Merge with the source of unconditional love within.
Become a blessing on the earth and live with the flow of life.
BONUS Sessions (For Limited Period Only)
1. Ten Teachings to Transform Your Work Life
An audio program from Michael in which he addresses ten common workplace challenges, finding satisfaction and fulfillment at work, the art of effective communication, problem-solving, creativity, and much more. These sessions will help you in transforming your work life and face the realities of daily work life.
2. Spiritual Activism: The Path of Accepting and Serving Reality
Many of you feel strongly about a social cause but then wonder how to work or fight towards a change in society. In this 43-minute audio teaching, Michael discusses the intersection of spirituality and activism, the power of acceptance, seeing things clearly, and more.
How Much Does This Course Cost
As I write this post, this course is available at a discounted one-time price of $197. The original price of this course is $397. I personally feel the value which this course can bring to your life is way beyond the price of this course. Michael has poured all his wisdom, experience, and teachings over the past four decades and presents you with the most effective personal growth technique.
If you still feel this course has not met your expectation, you need not worry as you are covered with a 1-year money-back guarantee. There are practically zero risks to try this course with a money-back guarantee.
Final Thoughts
I have been profoundly impacted by Michael A Singer's teachings. I have been following him for quite some time and I personally rate him as one of the best spiritual teachers I have come across.
One of the greatest lessons you will learn here is that trying to achieve happiness by "getting what you want" is actually limiting your happiness. You end up struggling with life instead of experiencing it. True happiness comes only when your inner energy is free to flow. That unhampered flow is, indeed, the goal of this course.
Enroll today and challenge yourself to go beyond in order to live from a place of surrender to the flow of life.
Please note I receive compensation if you click on any links mentioned in this post to purchase a product or service from the third party website. Also, purchasing a product or service from the above links does not increase your purchase price, however, it is a great way to thank me if you enjoy my content and find my suggestions useful. I only recommend products and services that I have personally used or thoroughly researched.