Do you know your respiratory rate i.e. the number of breaths you take per minute? The average adult usually takes between 12 – 20 breaths per minute. Are you wondering how many breaths you take per minute? To know this, you need to first understand what is shallow breathing?
As per Wikipedia, Shallow breathing is also known as chest breathing. It is the pattern of taking a minimal breath into the lungs. These breaths tend to be short and quick, the chest expands and contracts with each breath while the abdominal area remains almost still. For the majority of us, breathing is usually an unconscious process hence most of us throughout the day resort to shallow breathing.
It may not seem like a big deal but most of us take the act of breathing for granted. As my friend says, if I am alive, I am breathing properly…period. Just like my friend, there are many people who consider any breath as a "good" breath. Since the activity of shallow breathing doesn't seem "life-threatening" many overlook the potential dangers of shallow breathing for a long time.
Did you know that when you take shallow breaths, you are over-breathing oxygen and breathing out too much carbon dioxide? This in turn creates stress in our body and keeps our nervous stay on red alert all the time 24×7? This is the primary reason why you feel stressed the whole day.
The sad part is, many people are not aware that they are constantly taking shallow breaths throughout the day and unless you break this pattern of breathing, you will continue to feel tensed and stressed for the majority part of your day – It is a vicious cycle which can only lead to hypertension and other respiratory problems.
What Causes Shallow Breathing
Shallow breathing has lots of different causes, you might feel short of breath if you are obese or if you have just done some high-intensity exercise or workout. It can also happen in extreme temperatures or if you are at a high altitude.
Even during panic attacks or while experiencing anxiety our breathing can become more shallow and restricted. There are also occurrences wherein shallow breathing can also be a sign of a medical problem like asthma, chest infection, choking, or a lung infection.
How Bad Posture Affects Your Breathing
Did you know that your posture affects your breathing? There are three primary muscles responsible for breathing. First, the intercostal muscles of the thorax region (your chest), second the abdominal muscles (the obliques), and third the diaphragm (a dome-shaped muscle located at the base of the lungs). These primary-breathing muscles have lost their freedom to breathe effectively because of a poor posture.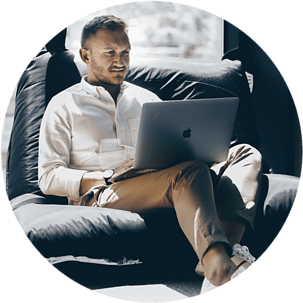 Do you slouch? Be honest with yourself. If you look around we live in the slumpy world of desk jobs where most people sit for long hours hooked on to their laptops/desktops. When people are not working they are either looking down at their smartphone scrolling through social media for hours or are lounging on the couch watching Netflix – All these habits are leading to a poor posture. The human body is simply not designed to sit on a chair our bodies are naturally designed to be in constant motion and movement.
Today the most common health problem which the world at large is facing is constant headaches and back pains. Poor posture is one of the prime reasons you aren't feeling good and it is definitely affecting your health and well-being.
You need to understand this simple fact – When an individual has rounded shoulders and a forward head position for the most part of the day then he is limiting the diaphragm's ability to do its job. The breathing muscles are cramped and restricted. Your lungs are squeezed, the front of the chest grows short and tight while muscles across the back become overstretched and useless. This leads to shallow breathing and you process less and less oxygen to your brain and body. Less oxygen means less energy, less focus, and less function.
How To Fix Shallow Breathing
To fix shallow breathing you need to understand the linkage between your posture and breath. Your spine is intimately connected with the diaphragm. Each breath you take moves your spine through its primary movement patterns i.e. extension and flexion. The spine is in flexion when you bend forwards and the spine is in extension when you bend backward. The goal is a neutral, upright spine position — not flexed too far forward or backward.
When our spine's movement is restricted, our breathing is restricted and vice versa. It is important to understand this relationship between spine and breath to remove restrictions and strengthen the core.
So primarily there are two things you should focus on to fix shallow breathing. First your posture and second your breath. As you improve both posture and breathing, your energy levels will increase, difficulty taking a deep breath will vanish, and overall health can be improved.
Tips To Improve Your Posture
Sitting Posture
If you have a desk job sitting in the correct position all day will be difficult. Hence, it is important to be mindful and keep reminding yourself to have a good posture. It is important to keep your back straight and prevent your shoulders from rolling forward. Using an ergonomic chair for most of the workday is suggested.
Standing Posture
When we are tired and fatigued our bodies tend to lean forward and hunch over. Stand up straight and tall with your shoulders back. Pull your stomach in and let your arms hang down naturally at your sides. Ensure your feet are about shoulder-width apart.
Sleeping Posture
Sleeping flat on your back with a pillow under your knees is the best way to sleep as there is no pressure on your neck and spine. You may want to avoid sleeping on your stomach on a saggy mattress as it can cause back strain and pain in the neck. You want the mattress to support your spine as you sleep.
Breathing Exercise To Overcome Shallow Breathing
Learning to breathe deeply and fully will increase your oxygen supply in your body. It also helps in bringing awareness to the present moment and calms your mind.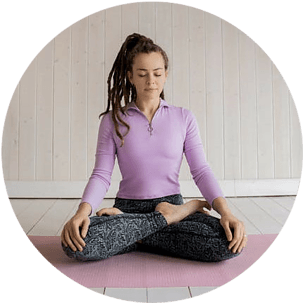 The 3 Part Breath teaches you to breathe fully and completely. It is the most simple way to retrain yourself to breathe properly. This method is often taught at the very beginning of a yoga practice.
The Three-Part Breath
1. Position: You can practice the three-part breath while seated on a chair with your feet flat on the floor or sitting cross-legged on the yoga mat or lying down fully extended in Corpse Pose. At the start of the practice, lying down on the back can help you in really feeling the breath moving through your body as it makes contact with the floor.
2. Preparation: Spend a minute to settle yourself, ensure you are comfortable, without distraction. Begin the practice by noticing your breath, the smooth inhalation, and exhalation of your breath without changing anything.
3. Part 1: Place your hands on the belly (just above the navel) As you inhale, fill the belly up with your breath. Expand the belly with air like a balloon. Feel your hands expand as the belly moves. As you exhale, push out all the air from the belly through your nose. Feel your hands contracting as you draw your navel back towards your spine. Repeat this for about three rounds.
4. Part 2: Place your hands on your ribs and inhale. Expand the belly again, as the belly is full, draw in a little more breath and fill the rib cage. Allow the ribs to expand in all directions. As you exhale, let the air go first from the rib cage and then from the belly. As you exhale you will feel hands contracting as the ribs slide closer together. Repeat this for about three rounds.
5. Part 3: Place your hands on your upper chest. As you inhale fill the belly, rib cage with air, and draw in a little more breath fill the upper chest as it expands all the way to your collar bone. As you exhale, push the air go first from the upper chest, then from the rib cage, and finally from the belly. Repeat this for about three rounds.
6. Complete Breath: Practice these three parts separately until you are confident that you are doing them correctly, then put all the parts together as one continuous complete breath.
Set aside at least five to 10 minutes a day to practice this breathing exercise. I hope you enjoyed reading the post as much as I enjoyed writing it. Go ahead and try the breathing exercise to breathe deeply and fully. Feel free to share your feedback and questions in the comments below.
Related Post: Learn How To Unfold The Secret Breath Effortlessly With Pranayama