The most important habit I have formed this year is setting aside 10 minutes daily for my meditation practice. I am far from perfect, however I have noticed, I have become more peaceful, more focused, less anxious about my future and living more in the present.
I remember when I started my meditation practice, consistency was a major challenge, I just could not make it a daily habit. I knew the benefits of meditation, however I used to get bored after few weeks. I used to get often demotivated, as I could not experience the benefits of meditation. So in short, it was an erratic meditation practice.
Are you bored with meditation ?
Are you finding it difficult to stick with meditation ?
Are you worried if you are meditating correctly ?
If you answered YES, then let me tell you what I did to find answers to these questions. In the beginning when I was struggling with my meditation practice, I took help of Guided Meditation.
Guided meditation had answers to my questions, I was no longer bored with meditation nor was I worried, if I am meditating properly. So today, with your permission, let me introduce you to a guided meditation program.
Before I talk about this program, let me tell you about the creator of this program.
Who is Jason Stephenson ?
Jason has been involved in the meditation and relaxation music field for the past 15 years. He is founder of Relax Me Online Australia Pty Ltd. In 2017, he became the number one best-selling author on Amazon with "Success Mastery" a book he co-authored with the great Jack Canfield. He is also a certified Jack Canfield "Success Principles" Trainer.
His YouTube Meditation Sleep Music Channel has grown to over 1 million subscribers with over 250 million views. In November 2017, Jason conducted a live meditation in Santa Barbara, USA to over 800 people at a Fest Forums event, which had Hollywood actors and musicians.
His guided meditation work has now been accepted in prisons across Australia and the USA (to help with the rehabilitation of prisoners) and recently has been accepted to be utilized to help over 4000 prisoners in the Mule Creek State Prison in CA, USA to aid in relaxation and sleep.
Jason didn't have a glorious past, when he was in 30s he entered troubled times in his life, both on physical and mental levels. In fact, realty hit him with a jolt when his doctor told him he was HIV positive.
Jason says, "I got off track and delved into the abuse of drugs and alcohol – a total abuse on all levels to my body, mind and spirit. I relied on meditation and affirmations at this time to get me through some of the darkest days of my life."
About The Program – Meditation Mastery Secrets
It is a Guided Meditation program wherein Jason has created audio tracks which allow you to enter into a meditative state of mind in matter of minutes. He then uses affirmations and visualization techniques to program the subconscious mind towards personal empowerment and positive thinking.
When I listen to these audio tracks, I never put any effort to calm my mind. I just use my headphones, sit in a comfortable place and then allow myself to drift into Jason's voice and music. That's the beauty of this program, these guided tracks allow you to restore your sense of self and experience inner peace.
Here's what you get in this program: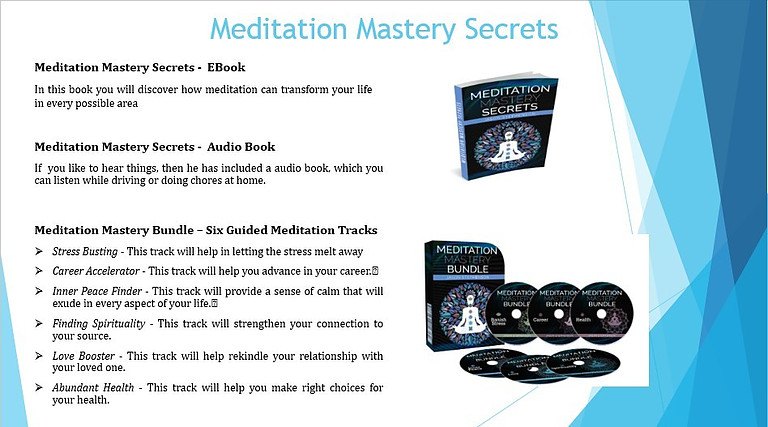 He is also providing some bonuses…
In addition to this…
Jason is providing you 1 Month FREE Access to his 12 month program The Upgraded Life.
(Please note these offers are available as I write this post)
How much does it cost ?
You are probably wondering how much is this program going to cost me. As I write this post, this program is available at highly discounted price of $47. If you ask my opinion, it is an excellent deal, as by purchasing this program you get immediate access to Meditation Mastery Secrets as an audio book and e-book, The Meditation Mastery Bundle, The Mindset Transformation System, The Deep Relaxation Mastery (Gold Edition!) and The Success Mastery e-book.
Is this program for you ?
If you are like me, struggling with your meditation practice or if you are beginner then I feel this program is one of the best ways to learn meditation.
Traditional meditation techniques require you to concentrate your attention on your breathing or maybe a mantra. However, if you find it difficult to master such techniques then I feel you should give this program a try.
What if, I don't like this program…
Don't worry. Jason has got you covered here. If for any reason you do not like the program or if you don't get the desired benefits then you will get all your money back within 60 days.
I sincerely feel, with 60 Days Money Back Guarantee you have nothing to lose.
Final Thoughts…
This program does not require years of work or hours a day of meditation. You simply go through the lessons and follow the exercises at the end of every lesson. It should not take you more than 15 – 20 minutes a day.
The hard truth is, if taking out 15 – 20 minutes is too much for you, then you may end up living a mediocre life, just like many people around you. If you truly believe and wish to live a grand life, then dedicate that little time and effort in developing yourself, so that you can ignite the power within you, to create anything you want in this life.
Last but not the least, do not try to find shortcuts for everything in life, if you are committed to make meditation a daily habit then do it. I wish you good luck in your journey.
Please note I receive compensation if you click on any links mentioned in this post to purchase a product or service from the third party website. Also, purchasing a product or service from above links does not increase your purchase price, however it is a great way to thank me if you enjoy my content and find my suggestions useful. I only recommend products and services that I have personally used or thoroughly researched.