Mindfulness – Have you come across this word ? Perhaps, you have read about it or have heard it before ? I am guessing you are nodding your head as 'Yes'.
Wait a second, here is the most important question: Are you experiencing the benefits of mindfulness ?
Let me tell you, there is no point in reading a bunch of articles on mindfulness or attending a workshop and then moving on with your life. It is vital that you make mindfulness a part of your daily routine and reap its benefits.
Are you struggling here ? Be honest.
I believe you are aware about mindfulness, its benefits, perhaps, you have even attempted it few times however, didn't find much success. Probably, you are not experiencing the benefits or are unable to practice it regularly due to which you have already given up 🙁
Will you give me a chance to help you ? I need your next 5 minutes, I want to share with you what I did to make mindfulness a daily practice. I will tell you how I started to experience the benefits of mindfulness – Hope this will motivate you to start all over again 🙂
Before we get into the program details, let me introduce you to the creator of this program.
Who is Greg Thurston ?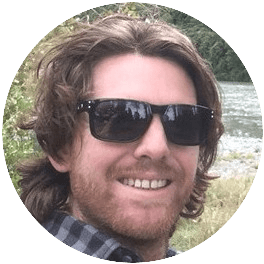 Greg Thurston designed the 7 minute mindfulness program. He apparently had a tough time growing up as a child and struggled with stress of everyday life.
As stated in his book (which comes with this program) when he was 10 years old the measurable difference in length between Greg's right and left legs was 12 cm (or 4.7 inches). His right leg is weak, and visibly thinner than the left and there is bone deformity which complicated things for him.
So for 26 years he lived with constant pain and a body that refused to cooperate. His spine was out of alignment, his hips had twisted to accommodate the difference and every step was a bit of torture.
Fortunately, for Greg the answer arrived in the form of a meditation class. His relief from pain started when he started to calm his mind, and reconnecting to his body. He learned to 'listen' to his body. Then, the rest as they say is all history.
What is 7 Minute Mindfulness ?
It is a unique program, consisting of audio tracks, specifically designed to experience the benefits of mindfulness in just 7 minutes. To be frank with you, what truly attracted me towards this program is these words '7 Minutes' and after going through the program, I can confidently say, it is possible to experience the benefits of mindfulness in just seven minutes. Of course, the key thing here is consistent practice.
All you need to do is download the audio tracks and start playing them. These are guided meditation tracks, just play them and let the tracks connect you to the present moment and sink you into deep relaxation.
For me personally, the one thing I have always experienced after listening to these audio tracks is a sense of calm and relaxation. My frenzy mind, which is overwhelmed with thoughts, seems to find some sort of balance, it just calms down. It's similar to a rough sea calming down after a storm. I simply feel more at peace and rejuvenated.
Here are the 10 audio tracks, you will get in this program:
Track 1: Body Scan

This track connects you to the present moment, and systematically helps you relax your mind and body.

Track 2: Boat Ride of Calm

This track uses visualization to help you quickly invoke calm.

Track 3: Three Part Breathing

Based on a powerful yoga breathing technique, explore different styles of breath which can help to calm the mind & body, increase oxygen supply to the blood, and release tension.

Track 4: A Calmer Breath

Strengthen your mind-body connection and create calmness

Track 5: Declutter & Create Space

This track combines many of the techniques from previous tracks, to allow for a deeper exploration.

Track 6: Find Your Calm

This track introduces affirmations as a path to calmness.

Track 7: A Tranquil Journey

Lie back and follow the calming story line with your imagination.

Track 8: Turning Anxiety into Love & Joy

This track combines all the techniques – breathing, body awareness and imagination to help you release anxiety & return to love and joy.

Track 9: Bonus 15 Minute Mind-Body Relaxation

This bonus 15 minute session is for those times you need a longer and deeper mind body relaxation.

Track 10: Delta Sleep Track

Listen to this once you are in bed ready to sleep. Let the track release you from the thoughts of the day and sink you into a deep relaxing sleep.
What is so special about these audio tracks ?
This program uses Binaural Tones, that are different frequencies of sound which are incorporated in the music to be played in each ear. Researchers believe these tones activate specific systems within the brain, which boost the natural relaxation response in the body, reduces anxiety, stress and fosters positive mood.
Try a different track each day for the first week, then listen to whatever track suits your mood. Ideally listen with stereo headphones. It's best to download all tracks in your phone or tablet and listen to them at your convenience.
What else you get ? Bonus!
Bonus #1:The Seven Minute Mindfulness Guidebook

This ebook contains real life stories of people who have overcome the roadblocks that have held them in the past by following a continuous practice of mindfulness. You will find Greg's story in this book.

Bonus #2:Your Little Book of Mindfulness Excercises

This ebook presents you great mindfulness exercises that you can use anytime; at home, at work or any other time you find your mind getting swept away with negative thoughts.

Bonus #3: Mindful Millionaire Formula

This ebook teaches you 20 mindset traits that millionaire live by, apply these habits and personality traits and transform your financial life.

Bonus #4:Your Ultimate Love Life Plan

This is audio interview with Bob Grant (Who is a Licensed Professional Counselor). Get some insights about how to nurture love that is romantic and have fulfilling relationships.

Bonus #5:Audio Book – The Seven Minute Mindfulness Guidebook

This is an audio book version of The Seven Minute Mindfulness Guidebook. For people who don't have the time to read, you can listen and enjoy whenever and where ever you like.
(Please note, as I write this post, the above bonuses are a part of this program).
How much does it cost ?
You are probably wondering how much does this program cost ? Honestly speaking, it is available at a highly discounted price at $17. In this price you can afford a Domino's Pizza for your entire family ? Right!
So if you can afford a Pizza, I am sure you don't mind investing in yourself. Please note as i write this post, this course is available at this price. In future the price may change.
Is this for you ?
If you cannot take out 7 minutes for yourself during the day, then you can skip this program.
However, If you wish to build a  mindfulness practice, and you are willing to invest 7 minutes, then you should definitely give this program a try.
You get a 60-Day Money Back Guarantee
Greg has covered you, if you are not happy with the program, you can claim your money back within 60 days. I look at this Money Back Guarantee as a challenge.
Can you commit yourself to practice mindfulness for the next 60 days ? Come what may I will take out 7 minutes daily for my mindfulness practice and listen to these audio tracks. Frankly speaking you have nothing to lose, I think you should give it a try.
Final Thoughts
As I mentioned at the very beginning of this post, I needed your 5 minutes. If you are still with me, I want to thank you for giving me your time. If I have the last 30 seconds left, here are my final thoughts.
If you are constantly battling with anxiety, stress and seeking ways to find inner peace, then I urge you to dedicate 7 minutes a day to train your mind. The choice is yours, I wish you good luck.
Please note I receive compensation if you click on any links mentioned in this post to purchase a product or service from the third party website. Also, purchasing a product or service from above links does not increase your purchase price, however it is a great way to thank me if you enjoy my content and find my suggestions useful. I only recommend products and services that I have personally used or thoroughly researched.