How many times have you tried to develop a new habit and have failed at it? Have you ever wondered why is it so difficult to cultivate a new habit to bring about a positive change in your life? I have been trying to figure out an answer and that's when I came across this online course 40 Days To Positive Change.
As I was reviewing the course the one thing that stood out for me is the "approach" taught in the course to bring about a positive change in life. Many times most of us try to force a change, we try to control everything, we try to set up rules, restrictions, agendas, etc. These attempts to change leads to a lot of resistance, frustration and push us back to where we were in life. That's why new year resolutions seldom work 🙂
One of the best ways to bring about a positive change or cultivate a new habit is to tap into your natural capacity for change and positive action. As humans, we possess the deep capacity for positive change and this capacity can be assessed as we connect to our values. I shall talk about this "unique approach" as I take you through the course curriculum but before that let me introduce you to the creator of this course.
Meet Your Teacher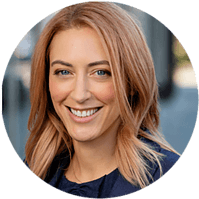 Kelly McGonigal, is an author, health psychologist & award-winning lecturer at Stanford University. She is a leading expert on the mind-body relationship. In January 2020, Oprah Magazine named her the first-ever O! Visionary for her work that integrates the latest findings of psychology, medicine with the practice of mindfulness and compassion.
She is the author of The Willpower Instinct & Yoga for Pain Relief and is the creator of two popular audio programs The Neuroscience of Change & The Science of Compassion.
Kelly is a TED speaker and here is one of her talks watched by over 11 million people on "How To Make Stress Your Friend".
Let's Understand The "Unique Approach" She Teaches In This Course
There are five parts to the unique approach that Kelly teaches in this course. Let's delve into each one of them
First Part: Emotions & Mindsets
Kelly says to facilitate the real positive change you should learn to cultivate the emotions and the mindsets that foster positive change. As you generate emotions of gratitude, joy, love, compassion your mindset changes what you believe is possible for yourself. Having this mindset helps you to take positive action naturally (without any force or pressure).
The key point to note – Positive emotions have a lot of energy behind them that helps you take positive steps easily and this makes the whole process of change or cultivating a new habit effortlessly.
Second Part: Strengthen The Motivation For Change
Kelly further explains that apart from these emotions & mindsets you need to strengthen your motivation for change. This means you need to go deep and find a strong reason for the desired change you wish to see in your life. She talks about a self-inquiry exercise of asking yourself "Why" you want that "change" three to four times in a row. Here is an example:
Question: What change you want to see in yourself?
Answer: I want to lose 40 pounds in 3 months.
Ask Why (First Time): Why you want to lose 40 pounds in 3 months?
Answer: I am overweight now and by losing 40 pounds I will reach my ideal weight
Ask Why (Second Time): Why you want to reach your ideal weight?
Answer: Then I will feel healthier and fit.
Ask Why (Third Time): Why you want to be healthy?
Answer: Then I will be active throughout the day & which would increase my productivity.
So losing 40 pounds = Makes me active & productive – BINGO!
You will notice in the above exercise the objective of asking a "Why" to each of your responses is to drill down to something that is absolutely meaningful and important for you. This invariably triggers your motivation to succeed at any given task.
Third Part: Enjoy The Process of Change
Kelly explains to focus and celebrate the process of change. Don't get distracted or anxious about the outcome. Most people go wrong here as they tend to become restless and want everything to happen all at once.
The process of change is gradual and you need to honor the process. If you take small steps consistently over and over again you eventually make it.
The key point to note – If your change is deep-rooted and driven by your values then you will love the process. If it is superficial then you will feel disconnected in the whole process of change.
Fourth Part – Connecting To Your Future Self
Kelly clearly explains the idea of connecting to the future self does not mean you ignore the present moment or reality. She refers to the idea of impermanence at a very deep level, it is an understanding the life is unfolding to you every moment, and things are always changing. It is a realization that very soon there's going to be a present moment that used to be the future.
She talks about a backward-looking exercise of imagining a future self who looks back on the present you, the future self can see you taking positive action and there is a sense of pride and gratitude that can be felt in the present moment as you work towards the change that you desired.
This exercise draws joy to what you are doing in the present moment and a knowing deep inside that it is helping your future self.
Fifth Part – Deepening Your Support Network
By deepening your support system Kelly refers to strengthening your bond with yourself and developing a sense of belonging with others. She again refers to the emotions like gratitude and compassion playing a powerful role in harnessing support that is available to you around.
The key point to note – Positive emotions especially "gratitude" allows you to change the way you think about your relationship with others. It helps you in creating the networks and harness social support in your process to change.
Curriculum Overview – 40 Days To Positive Change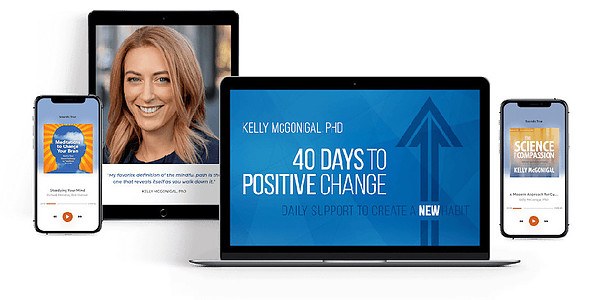 In this 40 Day Program, Kelly provides daily guidance for 10-15 minutes that will help you grow and instill your new behavior. Each session is like a dose of motivation that encourages you to stay on track to your growth and develops the much-needed discipline for positive change. Let's see what you will learn in this program on a weekly basis.
Week 1
The first week is about setting a strong foundation for positive change. Kelly starts the week by explaining in detail the role of gratitude, joy, and compassion in every stage of habit change. She states about cultivating a strong support network that is available to you when it comes to creating a positive change in your life. Towards the end of the week, Kelly explains how rewards, celebrations play a vital role in incorporating a new habit.
Week 2
The second week is about cultivating and practicing gratitude. You will learn how gratitude can fuel change and helps you in taking small steps. You will also discover why it is important to appreciate the process of change and how gratitude acts as a social emotion.
Week 3
In the third week, you learn how to associate joy with your habit. You will discover ways to anticipate future joy and be rooted in joy during the change process. You will learn the connection between habits and joy to create long-lasting habits.
Week 4
As you enter the fourth week you will learn how to extend your motivation and be gentle with yourself. You will evaluate your relationship with yourself and learn ways to strengthen it. Working with setbacks will be the next focus area this week. You will learn the role of compassion and implement it as you go through the journey to positive change.
Week 5
Kelly says don't be afraid of sharing your goals. In this week you will learn how to bring your change out into the world and seek support. She states the role of interdependence and being a part of a positive movement by opening to the support available around us.
Week 6
In the final week, Kelly shares how to celebrate and reward yourself for successfully instilling the new habit/change. You will learn how to write a gratitude letter and creating a memento giving thanks. She talks about the five states of mind and heart and their connection for eternal peace and joy.
TWO BONUS Program (For Limited Period)
As I write this post there is a promotional offer wherein along with the 40-Day Program, Kelly is providing lifetime access to two classic programs:
Meditations To Change Your Brain
Seven guided practices to rewire your neural pathways to transform your life. Rick Hanson and Richard Mendius the cutting-edge researchers show you how to strengthen the neural circuits through meditation that generate happiness, love, and inner peace.
The Science of Compassion
In the audio program, Kelly teaches the quality of compassion. She presents a practical workshop to help you understand that how to cultivate compassion in your life as it benefits the one who offers it, the one who receives it, and all those who witness compassion in action.
How Much Does The Program Cost
This program is currently available at a discounted one-time rate of $79 only. If you are devoted to adding a new habit to your daily life then you may want to consider this course before this offer ends.
This program also offers a 1-year money-back guarantee, so at a point in time during the program if you feel that this program is not meeting your expectations then you can claim a full refund.
Final Thoughts
If you have ever tried to develop a new habit or a new routine then you know it takes a good deal of time and effort to make that an everyday reality.
The truth is that permanently changing your behavior isn't just about applied willpower alone. In fact, it shouldn't be a solitary pursuit at all. You need consistent intentions, encouragement, and constant small rewards to reinforce the benefits of new habits.
Fortunately, Kelly has gathered more than a few tips and tricks through this 40-Day Program to successfully instill a habit towards positive change in your life. So join now and fully embrace the change process and add positive new habits to your life.
Please note I receive compensation if you click on any links mentioned in this post to purchase a product or service from the third-party website. Also, purchasing a product or service from the above links does not increase your purchase price, however, it is a great way to thank me if you enjoy my content and find my suggestions useful. I only recommend products and services that I have personally used or thoroughly researched.